Unveiling the Advantages of Permanent Staffing Services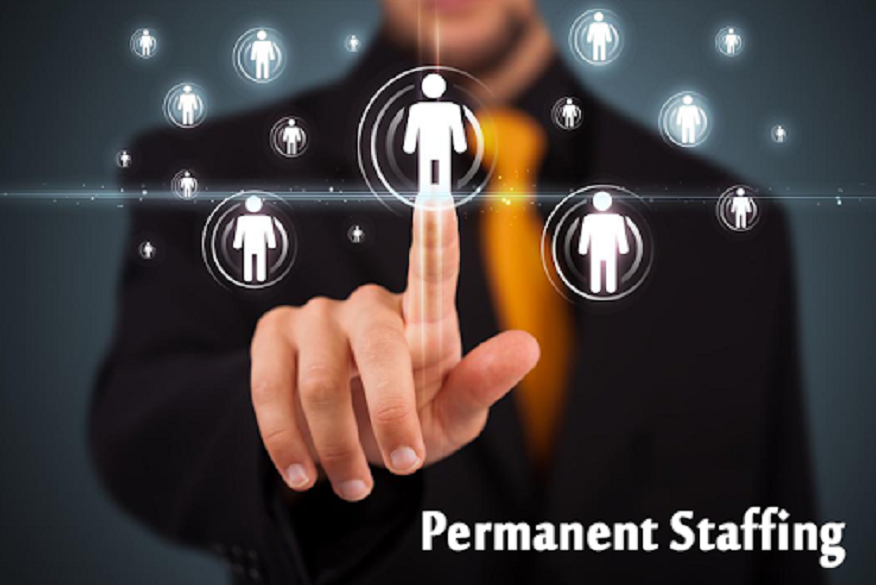 Locating and retaining outstanding employees is now a major priority for businesses of all sizes and sectors in the constantly developing business environment. Businesses are always looking for people that not only have the necessary talents but also blend in with their organisational norms. Finding the ideal permanent staff member may be an exhausting and time-consuming endeavour. Permanent Staffing Services, on the other hand, come into play in this situation, providing a variety of priceless advantages for companies trying to ensure their continued success.
It's crucial to comprehend what permanent staffing services comprise before delving into their benefits. Specialised recruiting organisations that help businesses find and hire full-time workers offer permanent staffing services. These organisations take on the duty of finding, vetting, and introducing eligible applicants, thereby assisting businesses in developing a reliable and knowledgeable staff.
Let's examine some of the many advantages that permanent employment services offer:
1. Talent Sourcing: Top personnel may be found and attracted with the help of permanent employment firms. They have the ability to access enormous networks of possible applicants, and they use advanced searching and screening methods to find people who not just fit the job's precise specifications but also reflect the beliefs and values of the organisation. This knowledge greatly speeds up the hiring procedure, guaranteeing that businesses can swiftly find the greatest people.
2. Time Savings: In the corporate world, timeframe is of the essence, and recruiting candidates might take a long time. Through managing all the time-consuming processes, including employment listings, application reviews, and first evaluations, permanent staffing services expedite this procedure. This results in enhanced efficiency and effectiveness since inside HR teams and recruiting managers have more time to concentrate on important company activities.
3. Cost-Efficiency: It might be expensive to hire new personnel and train them. However, permanent staffing services can assist businesses in lowering their hiring expenses. They frequently benefit from economies of scale which let them recruit more people for less money per hiring than small businesses could. Furthermore, by adequately evaluating applicants, firms can reduce the monetary hazards related to a poor recruitment.
4. Specialized Skills: Hiring people with extremely specialised talents might be difficult in some businesses. Permanent staffing firms offer a wide range of industry specialisations, which gives them the expertise and connections needed to find applicants with distinctive and in-demand qualifications. This guarantees that businesses can obtain the knowledge they require to remain competitive.
5. Reduced Turnover Rates: Excessive turnover in employees may be harmful to a business' health and expansion. The chance of retaining dramatically rises when permanent staffing firms locate applicants that not just have the necessary credentials but also mix well with the working environment. Because it is expensive and time-consuming to hire and educate new staff, lowering turnover rates results in savings in expenses.
6. Increased Flexibility: In current dynamic marketplace of business, permanent employment services give organisations a level of autonomy that is essential. They give companies the flexibility to adjust their staff in response to changes in the marketplace or the needs of a specific endeavour without making the lengthy promises and liabilities related to long-term staff members. Companies can stay adaptive to shifting market situations thanks to this flexibility.
7. Reducing Legal Risks: It may be challenging for organisations to navigate the intricate web of labour rules and regulations. Permanent employment companies are well-versed in labour regulations and compliance standards. Experts guarantee that the recruiting procedure complies with all legal requirements, lowering the possibility of pricey legal challenges and fines.
8. Employer Branding: For luring great people, a good company image is a potent advantage. By discovering and emphasising to potential employees their unique marketing characteristics, permanent staffing services may assist organisations in honing their company branding initiatives. In turn, this improves their capacity to draw in the best workers who share the business's beliefs and mission.
9. Screening and Assessment: Permanent staffing companies extensively analyse individuals through sophisticated assessment and screening procedures. This involves conducting history investigations, checking references, and skills evaluations. These extensive assessments guarantee that the applicants supplied to employers are not only competent but also have the characteristics and mindsets required for sustained achievement inside the organisation.
10. Support throughout the Hiring Process: Beyond applicant proof of identity, permanent employment services have several advantages. These firms offer significant assistance at every stage of the recruitment procedure, from finding applicants to negotiating offers and training. They act as an intermediary for businesses and applicants, promoting a simpler and more effective recruiting process for everyone concerned.
11. Long-Term Value: Permanent employment services are a stake in the company's long-term achievement. Businesses may experience consistent development and consistency by acquiring top people that are not only competent but also compatible in culture with the organisation. Hiring the appropriate recruits may produce long-term benefit that is far more valuable than the initial expenses of hiring.
12. Competitive Advantage: Permanent staffing companies have a strong presence in the industries they serve. They have critical knowledge of industry trends, competition tactics, and changing skill requirements. For businesses looking for an edge over their competitors, this market information may be revolutionary. Agency may give advice on the newest specific to an industry hiring techniques and assist companies in staying on top of developments.
In the end, organisations looking to develop a solid, reliable, and competent staff may reap a variety of advantages from using permanent staffing services. These solutions have a profound effect on the hiring procedure, offering anything from quicker turnarounds and recruiting expertise to cost effectiveness, access to specialised talents, and lower attrition rates. They allow businesses to maintain their agility, reduce legal hazards, and improve their company's branding initiatives—all while making sure they make for a long-time smart hire. Working alongside permanent staffing agencies is an important move that helps organisations find the appropriate personnel, promote development, and accomplish long-term success in today's highly competitive business climate where talent is an essential competitive edge. This collaboration puts businesses on the road to sustainable growth by accelerating the hiring process and improving the standard of employees as a whole.